COVID-19 or Coronavirus disease is an infectious disease caused by a newly discovered SARS CoV-2 virus. It is declared as a pandemic by WHO and was erupt in China in 2019. The virus is almost affecting 220 countries and territories.
The virus mainly spreads through droplets of saliva or discharge from the nose of an infected person. The infected person can experience mild to moderate respiratory illness. But it can cause severe illness when a person suffers from other medical problems like diabetes, cardiovascular disease, chronic respiratory disease and cancer.
What Is Covid-19?
Coronavirus belongs to a large family of viruses that cause the common cold, cough, severe acute respiratory syndrome (SARS) and the Middle East respiratory syndrome (MERS).
The coronavirus originated from the food market in Wuhan, China, in December 2019. The virus is officially named as SARS-CoV-2 and has been responsible for around 4 million deaths and 195 million infections.
The best way to protect yourself and others from infection is by washing your hands, wearing masks, keeping social distance, and avoiding touching your face frequently.
Symptoms Of Covid-19
Researchers and doctors are witnessing new things about viruses every day. The signs and symptoms of coronavirus may appear two to 14 days after exposure to the virus. The period between the exposure and appearance of symptoms is known as the incubation period.
The common sign and symptoms that specify COVID-19 disease are;
Cough
Fever
Tiredness
Shortness of breath
Lack of smell and taste
Some other symptoms of coronavirus are;
Chills
Sore throat
Runny nose
Pink eye
Nausea
Rash
Diarrhea
Muscle aches
Vomiting
The severity range of coronavirus is varied between very mild to severe. People may have few symptoms or may have no symptoms. Some people may have severe symptoms like shortness of breath, severe cough and pneumonia.
What Is Covid-19 Testing?
COVID-19 testing includes the test for the current infection or past infection. These tests confirm the presence of a virus in the body (current infection) or any past infection that causes COVID-19. You can get a viral test by visiting your state, tribal, local or territorial health department websites to get the latest information about the testing. You can also visit your healthcare or public health department to get a self-collection kit for coronavirus testing.
Types Of Tests For Covid-19
COVID-19 testing can tell whether a person currently has an infection or has already dealt with the infection. As per FDA, none of the tests is 100% reliable. These three types of tests have the aim to find out if a person has or ever had an infection.
1. Molecular Test
The test can tell if a person currently has the infection. The molecular test is a real-time polymerase chain reaction (RT-PCR) test. This is also known as the nucleic acid amplification test. RT-PCR test detects the virus's genetic material in the sample.
2. Antigen Test
It is a rapid test that detects proteins produced by the virus in the body. It is a simple rapid test that can be taken at home using a small testing kit that resembles a home pregnancy test. Antigen tests may have less accuracy than RT-PCR tests.
3. Serological or Antibody Test
The serological test detects antibodies produced by the body during dealing with SARS-CoV-2. These antibodies present in the blood and tissues that are identified during blood examination.
How Are The Tests Done?
Most coronavirus tests can be diagnosed by taking a swab sample from the back of the nose, throat or both. But some tests can also be done by taking blood samples.
1. RT-PCR Test
RT-PCR testing involves a health care professional who can collect a sample from the nose or throat by a long cotton swab and send it to a laboratory for testing. It analyses the presence of genetic material of the virus in the sample.
2. Antigen Test
The test includes a swab needed to dip in a vial of fluid after collecting a sample from the nose or throat. Then insert the swab into a small device. The line should appear on the screen of the device as the fluid spreads on it.
The line determines the correct working of the test. After 15 minutes, if another line appears on the device, it shows a positive result for the virus. If a line does not appear, the result is negative.
3. Serological Test
Serological testing needs a blood sample. A doctor will insert a needle into the vein to collect a sample. The sample is all that the laboratory needs to conduct the testing.
When Should You Get Tested?
A person should consider testing if;
They have experienced symptoms of COVID-19 like fever, cough, cold.
If a person stays around someone who has tested positive for a total of 15 minutes in 24 hours.
If a person is exposed to a crowded environment.
If any healthcare professional recommends having a test.
Conclusion
The effect of COVID-19 may vary from person to person depending on the presence of any severe medical condition. There is no need to be quarantined unless you suspect any symptom of the virus or you have confirmed test results. Simple habits such as washing hands frequently, maintaining physical distance, and wearing masks can protect you from the exposure of the virus.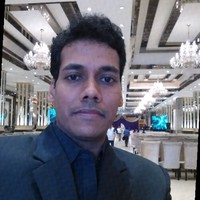 Rohit Jain is an IPR Specialist and Medical Content Writing Expert. For over a decade, he has written several articles in the areas of female infertility, Erectile dysfunction, hemangioma, cervical cancer, monoclonal gammopathy of undetermined significance, mononucleosis, mitral valve disorder, nerve sheath tumor, shin splints, mild cognitive impairment, cellulitis, brain metastases, atelectasis, MCAD deficiency, lymphoma, sepsis, cardiac rehabilitation and metabolic disorder among others.